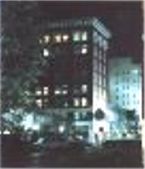 Technically, the radio station is still licensed to Muskogee; but the studios have been moved to Tulsa. To me this means it no longer is a Muskogee station. Even though I had anticipated the move for several weeks, when it actually happened, it was not easy for me. My broadcast life had been centered around KBIX. Even though my radio career had taken me to many different places, including Los Angeles, Las Vegas, Oklahoma City and Tulsa, my heart and mind were always here in my home town of Muskogee.
Here is how that last night on the air went.
The close for the old time radio feature was almost finished. The clock was pushing the midnight hour. My mind knew it was just about over, but my heart did not want to accept it. I had decided on this last night on the air to finish with three hours of old time radio shows for several reasons.
The program I had been doing for the past three years was designed to be unique; reflecting the history of the 20th Century while combining modern radio techniques and talk units that were current. Each night we broadcast an hour of old time radio dramas and comedy series as part of this eclectic menu which was broadcast around the world on the world wide web for most of the time that I had been doing this show. So it seemed fitting that I should close out this chapter of my radio history in this way.
I slowly and deliberately explained to the audience one last time that this was the end of the road for our show and for KBIX as a Muskogee station; then I played an old tune called "So Long For Awhile" by Eddie Howard. As the cart machine played this tune I thought about how fitting it was to close out with a non computer generated song, but one done the old fashioned way, a broadcast cart.
Through the haze that was now normal for my failed vision, I stared ahead at the console that controlled the broadcast, barely seeing the VU meters kissing the red, not wanting to look at the others in the studio. This was a moment that I must have to myself.
The Tune was over. I counted to three and then hit the computer. KBIX was on its last day of playing the hits of the 50s, 60s and 70s. By a little after five this afternoon, the switch to all sports programming would happen.
Sue Hanson, my studio producer and right hand person for these many broadcast was picking up all of the loose scripts and tapes, packing them away in our brief case silently. David Reynolds, a frequent contributor to our programming, had come over from Oklahoma City for the final broadcast was much like us, Zombies, He, Sue and myself, as if on some sort of automation program ourselves, said very little. We walked out of the studio and into the hallway of the 9th floor of the Bank of Oklahoma Building. We turned out the lights and shut the door. KBIX was now part of our own personal history.
Quietly, we walked to the elevator door. Inside my head, the memories were spinning. As the ching, chinging noise the elevator made as it came to pick us up, barking out with a ring every floor, I was fascinated by the 9th floor symbolism of it all.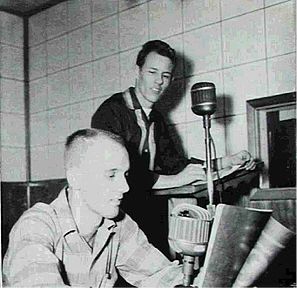 While in Junior High school I used to hang out on the 9th floor of another building long gone, passed into only a memory. KBIX was on the 9th floor of the Barnes Building back in the mid- 50s when I (in front in photo) was given a job as an announcer at KBIX while still in high school. Hanging out over the months had paid off, they decided to give the kid a job working on Sunday afternoons, mostly riding network shows but getting a chance to do a couple of half hour disc jockey shows as well.
KBIX had been good to me. It paid my way to college at nearby Northeastern and whenever I needed a job after chasing dreams of acting, doing stand up comedy and working in major market radio and TV, KBIX was almost always there for me when I needed a job.
We walked into the elevator and Sue pressed the first floor button and the door slammed shut. Closing out my radio career at KBIX, I started here and I ended up here. As we started our journey to the street, my mind thought about this great little radio station.
Major stars such as Patti Page and Robert Reed had worked here, scores of radio talent that went on to major markets had started here. The ghosts of those who had once lived and worked at KBIX, now seemed all around me as we continued down in the elevator.
As we walked out of the lobby of the magnificent old building that had been the Severs Hotel for years; I thought about that warm summer afternoon before I was born when KBIX came to life.
April 30th. 1936 - a far different time than now. Deep in the heart of the financial depression when the average annual income was $1300 per person, Muskogee seemed to be a city of hope. The dust bowl of Oklahoma had forced countless "OKIES" to put everything they owned into their cars and head west on US 66, the mother road. Muskogee and Eastern Oklahoma seemed to escape the worst of it.
KBIX was a beacon for all to see with its 185 foot tower on top of the ten story Barnes Building next to its owner, the Muskogee Phoenix and Times-Democrat on Wall Street.
Like the cold wind that touched my face as we walked to the car, reality was here. This grand old lady of Broadcasting would never be the same again and neither would I.
KBIX was a part of my soul, the fabric of my professional coat of arms. Listening to this station as a child, shaped my ideas of showmanship and broadcast expertise. It seemed like I should be able to do more than just leave her in the dark on this cold night in January; but as my tears rolled down my cheek; I knew there was nothing I could do.
It's Biblical, isn't it? All things must come to and end. My radio shows are not over, I am still on the Internet, broadcasting programming around the world at www.jerrypippin.com. Somehow, I know, regardless of how much continued success I have in the future, we Muskogeeans have lost something this night. We are all a little less complete with the loss of the grand old lady of radio stations. KBIX, we will miss you.
Jerry Pippin